In Anavyssos, at the coastline of the Athenian Riviera, Estate 48 dominates. One of the few seaside estates in Southeast Attica that manages to stand out for its impressive aesthetics and modern design. At Estate 48 all the elements "marry" harmoniously with the idyllic view of the Saronic, which is why it is the ideal choice for events and wedding receptions from May to October.
4+1 reasons that Estate 48 is the ideal venue for your event
Magnificent location
The privileged seaside location of the venue offers a magical setting for your most special day. At the most beautiful spot of the coastline of Anavyssos, surrounded by the carved rocks that are embraced by the sea, Estate 48 will immediately charm you. With its peaceful atmosphere and the tranquillity of the environment, will turn your own moments and those of your loved ones into everlasting memories
Impressive ergonomics and modern design
Estate 48 is the ultimate destination for hosting unforgettable events. The combination of its amazing location, excellent ergonomics, and innovative design, with the excellent services of Intercatering make it an ideal choice for those looking for something more. Its elegant design elements with the modern bar, the swimming pool, the built-in sofas overlooking the sea and the pergola with the dance floor offer an ideal setting to capture your unforgettable moments.
Ideal venue for any event
With attention to detail, Estate 48 fully meets all your event needs. The venue can accommodate large wedding receptions, corporate cocktail parties and gala dinners, as well as intimate gatherings, dancing parties and social celebrations. The architecture of the space perfectly combines modern aesthetics with the irresistible charm of a seaside estate, creating a unique atmosphere that enhances the overall image of your event.
Chapel for weddings or baptisms in Estate 48
One of the elements that define the uniqueness of Estate 48 is the picturesque chapel located within the venue in which weddings and baptisms can take place. The intimate atmosphere of the chapel, framed by the tasteful decoration, the natural light and the uniqueness of the landscape, create an intimate space for exchanging vows or celebrating a baptism.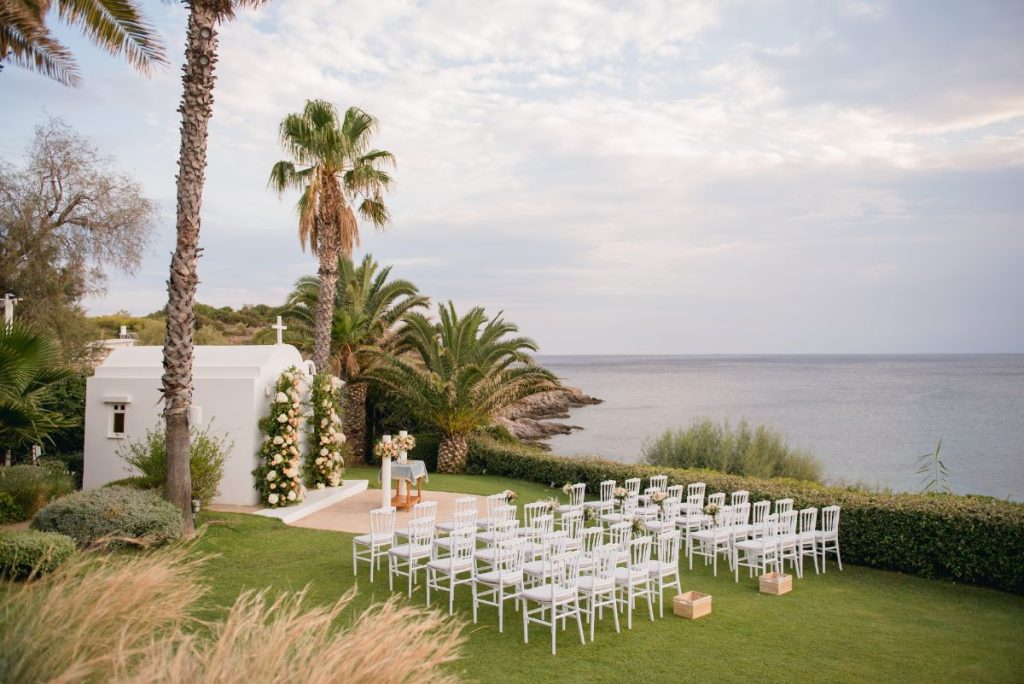 Scenery and flavors beyond any dream
Estate 48 is much more than you might have imagined. And even more with the signature of Intercatering, which has the expertise and know-how to offer you top-level culinary creations with excellent service, for a comprehensive experience of high standards.
For any information you can contact us here.