The holidays are the moments of relaxation, happiness, carefreeness, the moments we want to share with our people. The importance of taking care of your loved ones becomes even more intense these days as well as the desire for the complete satisfaction of your guests at your festive table, event or reception. However, there is no need to worry about all the procedures that can get you "overwhelmed". InterCatering knows how to create for you those moments that will be unforgettable for your loved ones.
Christmas Dinner Menus by InterCatering
Christmas menus… 4 you only
InterCatering's creativity and professionalism meet the personalization of your wishes. Your every thought can be transformed into a culinary experience, giving another dimension to your party, your festive event, and even to the New Year's pie-cutting event. With selected raw materials from Greece and every corner of the planet, we create refined flavors from the Mediterranean and International Cuisine for your own enjoyment. The experienced team of InterCatering can suggest the Christmas menu that suits the occasion and help you step by step to put together an excellent evening.
For your Christmas dinner, the InterCatering team has 4 unique menus to offer, which fully cover all taste buds and enhance the brilliance of the moments. Two Christmas Buffet Menus as well as two Celebration Delivery Set Menus with delivery to your place, go beyond the established and take off your Christmas Eve or New Year's Eve.
Christmas Menu Buffet 1
The "salad of the three Magi" with lettuce, peppers in three colors, orange fillet, avocado, roasted almonds and pomegranate pearls, accompanied by vinaigrette sauce made from aged balsamic vinegar, guides you to the bright star of taste. Along with the choice of the Waldrof salad with celery, walnuts, thin slices of green apple, raisins and a mild mayonnaise and mustard dressing. Of course, traditions are here to stay, with the Christmas turkey dominating always with its traditional stuffing of rice, bird livers, raisins, pine nuts, chestnuts, dried apricots, which is garnished with gravy sauce.
The slow-roasted pork leg in the oven with honey, mustard, orange and honeyed potatoes will blow you away. Accompanied by all this, the aromatic rice with dried fruits and pine nuts while the French tart with goat cheese, caramelized onions and leeks is the extra combination that opens horizons, to finish with a delicious Christmas log of fluffy sponge cake and airy champagne mousse.
Christmas Menu Buffet 2
Our second choice is the buffet menu which includes a feast of fresh salads with smoked duck, forest fruits and pomegranate vinaigrette, in addition of course to the festive "salad of the three Magi". Our unique Christmas turkey cannot be missing here either, however the difference is made by baby beef filet in herb crust with a sauce made from sweet Vinsanto wine, which brings a tasty infusion.
Lose yourself in the fusion approach of aromatic cabbage dumplings with sea bass boiled in stonefish broth. Wander through the taste of soft potato mousseline flavored with truffle oil and come back for our delicious French tart. The cannelloni with Christmas filling will delight you, while for dessert, in addition to the Christmas log, climb into the taste of a Mont Blanc cake of chestnut puree with a crispy meringue base.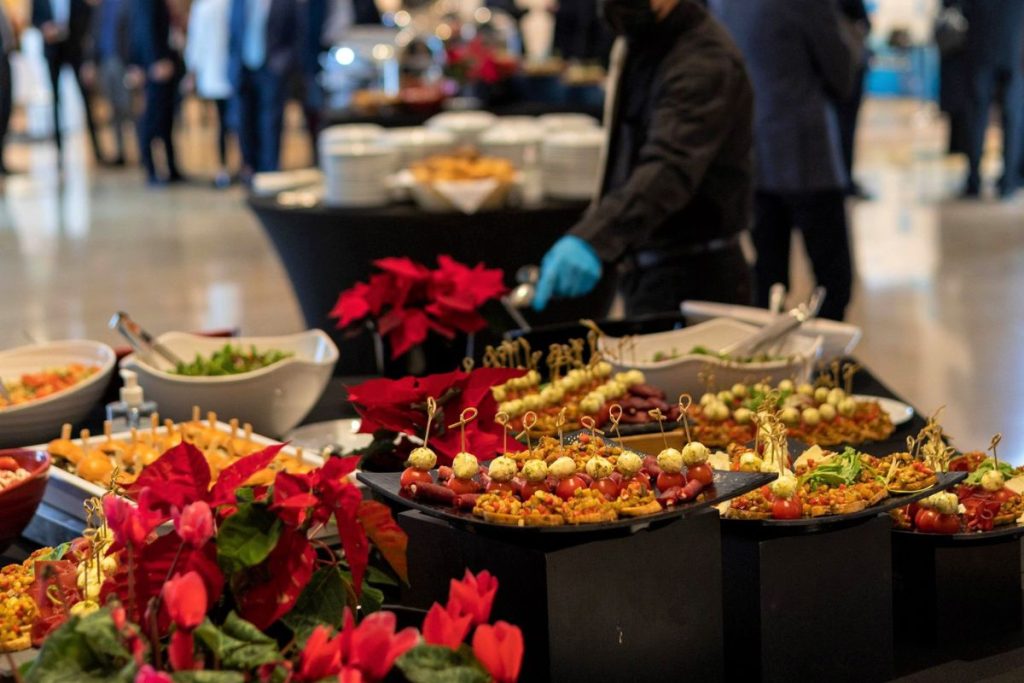 Christmas Cocktail Menu
Organize for your guests an unexpectedly glamorous evening at home or a holiday party at your company's space with our exciting Christmas cocktail menu. This choice is not limited to the staticity of a dinner table but allows the "mobility" that a party requires. The plethora of tastes with the various mini bites will fascinate. We will whet your appetite with a loaf stuffed with pieces of parmesan cheese, olives stuffed with florin peppers and almonds, mushrooms stuffed with herbs and smoked salmon rolls wrapped in arugula leaf. You will be surprised by the potato filled with sour cream & brick, the cherry tomato with mozzarella and basil pesto on the playful wooden sticks. Try foie gras and redcurrant mousse on thin slices of toasted bread that delights your taste buds, tramezzini with prosciutto and cream cheese and beef carpaccio rolls with chevre mousse that expand the culinary palette wonderfully. Panko breaded prawns served with sweet and sour sauce, honey and cilantro sirloin fillet and chicken fillets with plums on wooden sticks offer a wonderful array of flavors topped off with a sweet indulgence of chocolate truffles, chestnut mousse glasses and mousse glasses chocolate.
Christmas Menu 4  
The Holy Night is awaited with joy… but also with longing by the lucky ones who will find themselves at your Christmas dinner! Set the formal tone that suits the uniqueness of the evening with a complete Christmas menu. The festive salad with spinach heart, baby arugula, metsovone chips and pomegranate with mustard flavored dressing is the best start that paves the way for the wonderful flavors that will follow. Quiche with salty cream, asparagus and prosciutto cotto, the traditional stuffed Christmas turkey accompanied by baby potatoes with apaki and orange and the seductive Mont Banc cake will compose the culinary puzzle of the most special night of the year.
Christmas Dinner: Refinement in every way
Of course, our proposals and our services are not limited to your home or your private space event's needs. Even if you are looking for the location and the venue that could host your Christmas dinner, party or event, InterCatering provides you with the option of choosing between excellent venues within Attica, which can perfectly shape the conditions you desire. For any approach, we have complete solutions for organizing a successful festive event of high aesthetics and dreamy culinary creations!
Set the luxury tone that suits the occasion and create everlasting moments for you and your guests. All you have to do is put on your best smile and InterCatering will take care of the rest. The magic of Christmas awaits you!
For more information, you can contact us here